What Is The Book Hounds Program?
---
Literacy Program
Book Hounds is a program built around the appealing idea of reading to dogs. The goal is to foster positive attitude toward reading and learning.
Local Library Programs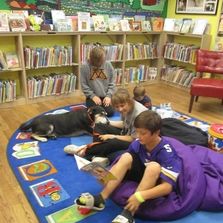 Book Hounds partners with summer reading library programs providing support to children by offering the reading practice necessary to build vocabulary, increase the understanding of the material, and gain fluency as a reader.
Local School Events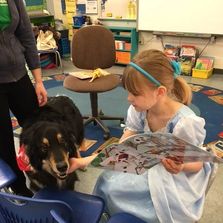 Book Hounds handler teams participate in school activities and events. Students make enormous strides in reading and communication skills while gaining self esteem, confidence and social skills.